Aribari® key ring pendant
Key ring pentant made of stainless steel
Made of stainless Steel
Practical Capsule
WATERPROOF KEYRING PENDANT
Are you looking for a small, portable storage container? This high-quality stainless steel capsule is waterproof and rustproof. It means you can always have pills, chewing gum or emergency cash with you, wherever you are.
PRACTICAL PILL CONTAINER
This mini pillbox is ideal when you are out and about or going on a trip away from home, because it means you will always have your medicines close at hand. The rubber seal makes sure that water cannot get into your tablet container.
VERSATILE STORAGE CONTAINER
This small pill holder can be used to carry tablets, chewing gum, Tic-Tac, folded banknotes and other small items, and it also makes a great holder for a gift of money.
STAINLESS STEEL SNAP HOOK
The small carabiner hook is strong and can easily be attached to a keychain, bag, rucksack or even a dog's collar.
WE VALUE YOUR OPINION
You can contact the Aribari Team any time to give feedback or ask questions. We will reply to all messages within 24 hours and look forward to hearing from you.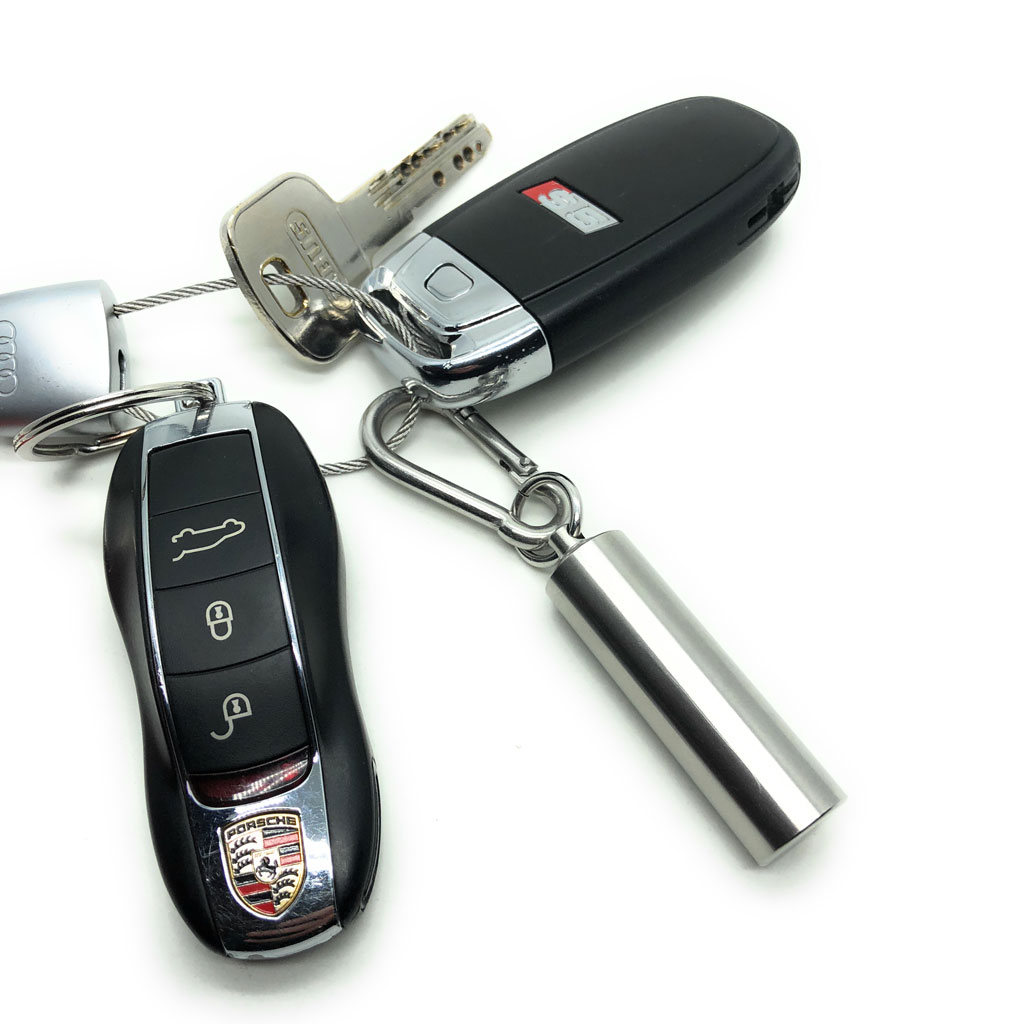 High-quality stainless steel keyring storage container for medicines, chewing gum or emergency cash, with snap hook.

This small stainless steel keyring pendant is very well made and it has a screw fastening. It holds small items such as pills, chewing gum, Tic Tac or folded banknotes.


The high-quality carabiner hook means it can be quickly and easily attached to anything you choose – whether a keyring, bag, rucksack, or even a dog's collar.

Compared to similar products made of aluminium, this stainless steel pill holder is much better quality, and it is absolutely waterproof, and rustproof.
Just for you
Your benefits of this practical keychain pendant
small container, perfectly portable 

very useful as a pillbox for medications of all kinds, including emergency headache tablets 

can be used as an address pendant for large dogs or for horses
high-quality stainless steel snap hook makes it easy to attach
screw fastening with rubber seal
guaranteed waterproof
also great as a pendant for a rucksack or handbag
can hold folded banknotes as an emergency cash backup when you are out and about
very robust, and this means it can be used for Geocaching